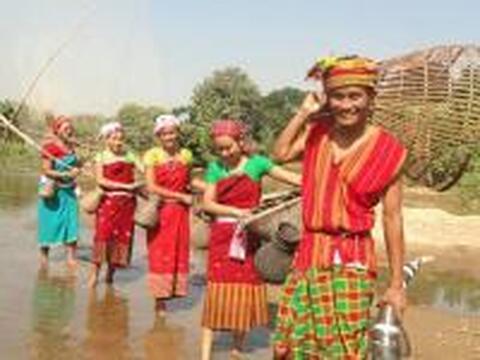 Please click here to read Rabha Bible stories.
Welcome to RabhaLanguage.com. You will really enjoy by going through our website. Our site is avalable in English and Rabha. You can easily navigate all contents. This is the best website to find more detail about the Rabha tribal group and their language. This people group lives in the hilly regions of Garo Hills in Meghalaya. The Plains of Kamrup, Goalpara & Kokhrajhar Districts in Assam, right in the middle of the bordering country of Bangladesh & West Bengal state. The mother tongue of Rabha people is Rabha. We are more centred on Rabha people in assam. The Rabha Language is in endangered, but thank God the restoration started in 2001 AD. They have 11 dialects: 1) Maithori, 2) Rongdani,3) Pati, 4) Dahori, 5) Dotla, 6) Halua, 7) Betolia, 8) Hanna, 9) Sunga, 10) Modahi, 11) Khosa Rabhas. These all are Rabhas but they have loss their mother tongues. Most of them have totally died out. But the Rongdani, Maithori and Khosas dialects are still used by few Rabhas. Khanin D Momin & Team by taking a banner called Rabha Mission Movement innitiated it.
The clouds of heavens are floating so gently,
It tells the lives of man never last
The birds on the Bush are crying loud
The dying language call for Love.
You can know more detail about the Rabha culture and custom and Language from this site. Do enjoy the beautiful pictures and videos of Rabha tribes. Find out more about various developmental works taking place among the Rabha tribal group. This website also offers other links to useful resources that would help you know more about Rabha and people in there. Our site is available in the Rabha and English languages so that it would be easier for you to browse our site and find your favourite contents. We regularly upload and update videos, music, pictures and scripture materials on our site. Feel free to download and enjoy them from our site. We appreciate your valuable comments and feedback. We thank God our heavenly father who enabled us to set up this website. Specially our gratitudes to Christian friends those who help us lot. May God Bless you.